Choose the right shorts!
To choose the right pair of shorts can be difficult. Here is a guide that helps you out to buy the right ones from CLN Athletics.
CLN Compression shorts
Our compression shorts are for those looking for extra support and pressure over the butt and thighs. The super-tight shorts really gives you that extra support you need when doing heavy squats, box jumps or when running. They can of course be used for any movement and exercise you like. Even as swim shorts . The material in these shorts are an extra soft, super stretch fabric that ensures a high compression, perfect fit and compact look, along with a fantastic breathability. It provides muscle support, increases the effectiveness of all movements, which reduces the risk of muscle strain and lactic acid production. In this way it increases your performance and feeling of freedom. The material is extra resistant to chlorine and sweat. We are talking about a long-lasting fabric, featuring a high shape recovery power which maintains its properties and performance even after many washes. Use the CLN Compression Shorts right on the body without briefs and under all of our shorts models.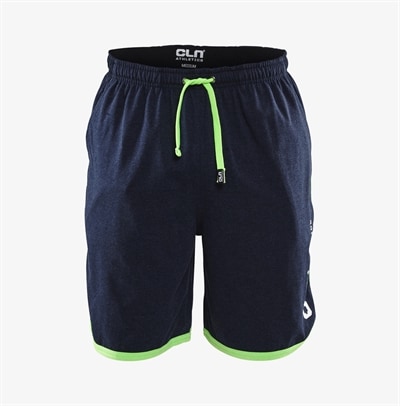 CLN Jersey Bow shorts
This model is a further development of our first shorts. A super soft, comfortable shorts that you just love to pull on whether it is training or at home on the couch. Made in a soft and comfortable cotton / polyester mix. The fabric in this shorts is knitted unlike our other shorts that are made in woven fabrics. This means that the bow jersey shorts are more sensitive to abrasion which can result in worn fabric. This can happen if you drag a barbell on your thighs. The fit is normal and the waistband is elastic which gives that great feeling you get in these shorts. Furthermore, you can adjust the waist with a drawstring if needed. The model also has two waist pockets.
CLN Ultra shorts
When our Team CLN athlete Lukas Högberg got back from Crossfit games he wanted a pair of shorts that were thin, stretchy and lightweight for training in warm environments. With this input we created our latest model in the shorts family, CLN Ultra shorts. As the name indicates, a super-light model optimized for those looking for a thin, stretchy, super-light model with very good wicking ability, breathability and movement. The fabric is a thin, flexible 4-way stretch made of polyester (86%) and elsatan (14%). The fabric provides excellent breathability and moisture wicking properties and a lot of stretch. The shorts are designed without drawstring waist for lower weight. Instead it has a 40 mm wide elastic waistband which gives a perfect fit and flexibility. This shorts is perfect for working out in warm environments thanks to the thin fabric, low weight and technical features.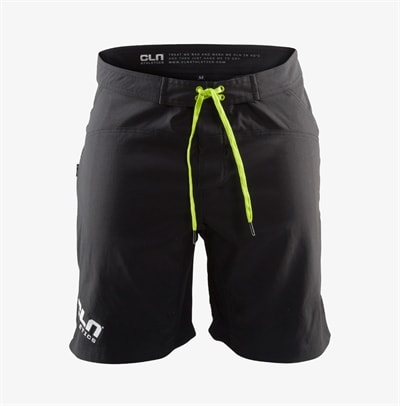 CLN Cordura stretch shorts NG EVO
CLN Cordura Stretch shorts NG EVO is probably the best shorts on the market for those who are training hard and with a lot with barbell. They resistant to really harsh treatments and can withstand abrasion from barbells without problems. EVO NG stands for Next Generation Evolution. It is the third generation Cordura stretch shorts that has been refined and improved over time. In this shorts we use a Swedish-made technical fabric (97% polyamide / 3% elastane) with exceptional wear and abrasion strength, yet stretchy with excellent moisture wicking properties. The model has a normal fit with a drawstring waist adjustment, velcro fly and a small zipper pocket on the leg. For further movement there is a knitted stretch gusset along the crotch.
CLN Rapid shorts
When we started developing the CLN Rapid shorts we to create an exclusive, versatile, durable, technical shorts with optimal fit. We managed it. The entire construction in combination with the choice of materials makes this model the most technical shorts we have created so far. The fabric is a very durable 4-way stretch quality with excellent moisture wicking properties made of Polyamide (88%) and elsatan (12%), which makes these shorts extremely comfortable and flexible. To optimize the feeling of freedom, we have added a back yoke in a knitted 4 way stretch fabric. This combined with a 40 mm wide elastic at the center back of the waistband creates the perfect fit and freedom of movement.
Designed with cuttings and seams at the right places to reduce irritation and chafing during intense exercise. In addition to this, all other accessories are carefully chosen. For example, the matt black eyelets with lime logo and multi-colored drawstring with silicone dipped ends as well as the laser cut CLN label down on the right leg. Rapid shorts also has a small zippered pocket on the back of the right leg.